(Duvet Cover) King Koil Colour Palette
Our luxurious solid Colour Palette collection of bed linens are made from high quality 1000 thread count cotton sateen for a smooth matte finish and opulent handle. Cotton sateen is celebrated for its superior strength, durability and exquisite comfort. Wonderfully versatile and appealingly simple and available in a variety of colours, you're sure to find one to complement your bedroom's interior scheme.
Our Colour Collection:
CO05101 NAVY BLUE, CO05102 SILVER BLUE, CO05103 CAMEO ROSE, CO05104 TRUE RED, CO05105 WHITE, CO05106 CHARCOAL, CO05107 LAVENDER, CO05108 LIGHT LEAD GRAY, CO05109 GRANITE GREEN

Free delivery
For purchases above S$100. Get them in 3-5 business days (for in-stock bedding and linen)

Call-back service
Our advisors are ready to answer any questions you might have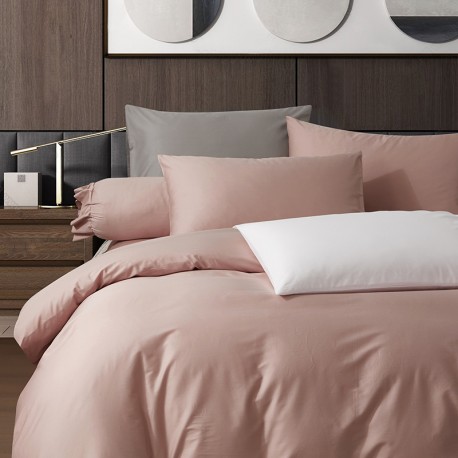 KING KOIL COLOUR PALETTE COLLECTION
Premium Cotton Sateen Solid, 1000TC
Single: 1 Duvet Cover (54″x84″)
Queen: 1 Duvet Cover (84″x84″)
King: 1 Duvet Cover (96″x84″)
S/King: 1 Duvet Cover (102″x90″)
King Koil Colour Palette Collection is an eco-friendly and natural product. The cotton yarns are breathable – ensuring that you stay cool throughout the night. The bed linens are weaved with the finest long staple cotton yarns, to give it a softer and silkier feel. The sateen weaving gives ensure that the bed linens are durable.
Additional pillow and bolster cases are available for purchase separately.
Our Colour Collection:
CO05101 NAVY BLUE, CO05102 SILVER BLUE, CO05103 CAMEO ROSE, CO05104 TRUE RED, CO05105 WHITE, CO05106 CHARCOAL, CO05107 LAVENDER, CO05108 LIGHT LEAD GRAY, CO05109 GRANITE GREEN