King Koil Micro-Gel Plushcomfort Topper – (Basic / Premium)
King Koil Micro-Gel Collection
King Koil's signature Micro-Gel® range of bedding accessories is an original product made in Korea. Micro-Gel® emulates the lightness and texture of natural down, giving it that soft and silky touch.

Free delivery
For purchases above S$100. Get them in 3-5 business days (for in-stock bedding and linen)

10-15 year warranty
Our mattresses are covered by a 10-15 year limited warranty

Call-back service
Our advisors are ready to answer any questions you might have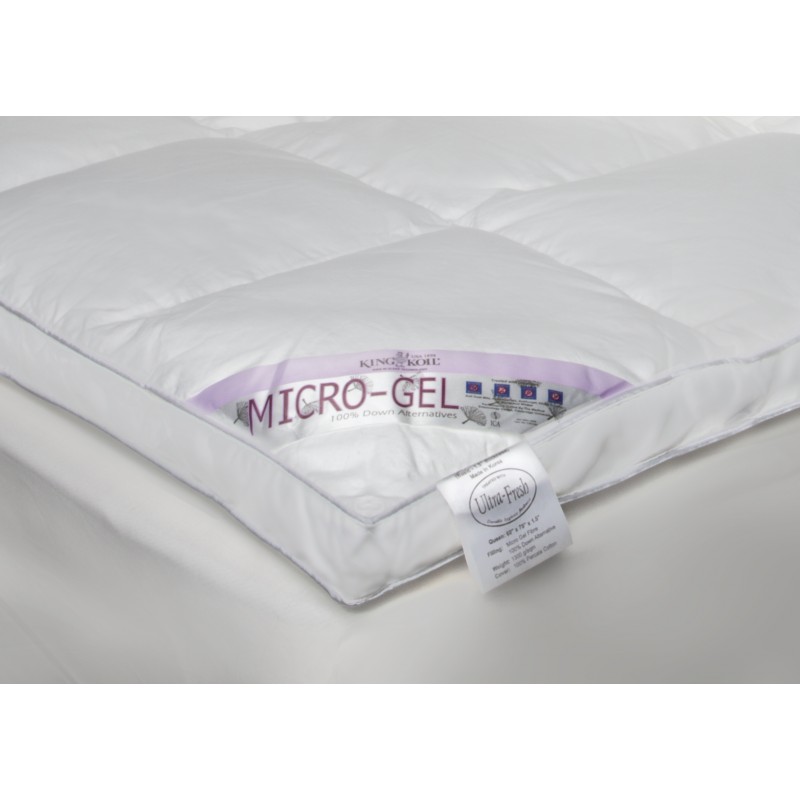 King Koil Micro-Gel® Collection
Micro-Gel® has superior thermal performance. The bedding accessories are also upholstered in 100% natural cotton covers – which are breathable, keeping the sleeping surface cool and fresh when in contact with the skin through the night. Suitable for use by customers of all ages,  Filling: 100% Micro-Gel® with  Ultrafresh – prohibits the growth of bacteria, mould, mildew and dust mites
Settle into that comfortable mattress with our signature range of Micro-Gel® bedding accessories. Enjoy the comfort that only others will dream of!
Lay a luxurious Micro-Gel Topper on your mattress for additional comfort and support.
Our Micro-Gel Toppers offer optimal support where you need it most! If you are a side sleeper, the topper helps to relief pressure where you put the most weight, like the hips and shoulders.
We are pleased to you offer you a selection of Basic (1.5"/4cm height) and Premium (2"/5cm height) Toppers.
The Micro-Gel Basic Topper provides cushioning.
The Micro-Gel Premium Topper has a soft and fluffy loftiness, providing ultra-comfort for all sleeping positions.
Specification
Basic Topper:
Filling: 100% Micro-Gel
Weight: 1350g/sqm
Cover: 250TC Cotton Sateen
Filling: 100% Micro-Gel® with  Ultrafresh – prohibits the growth of bacteria, mould, mildew and dust mites
Sizes:
Single: 36″ (W) x 75″ (L) x 1.5″ (H)/ 91cm (W) x 190cm (L) x 4cm (H)
Super Single: 42″ (W) x 75″ (L) x 1.5″ (H)/ 107cm (W) x 190cm (L) x 4cm (H)
Queen: 60″ (W) x 75″ (L) x 1.5″ (H)/ 152cm (W) x 190cm (L) x 4cm (H)
King: 72″ (W) x 75″ (L) x 1.5″ (H)/ 183cm (W) x 190cm (L) x 4cm (H)
Super King: 79″ (W) x 79″ (L) x 1.5″ (H)/ 200cm (W) x 200cm (L) x 4cm (H)
Premium Topper:
Filling:100% Micro-Gel
Weight: 2100g/sqm
Cover: 250TC Cotton Sateen
Filling: 100% Micro-Gel® with  Ultrafresh – prohibits the growth of bacteria, mould, mildew and dust mites
Sizes:
Single: 36″ (W) x 75″ (L) x 2″ (H)/ 91cm (W) x 190cm (L) x 5cm (H)
Super Single: 42″ (W) x 75″ (L) x 2″ (H)/ 107cm (W) x 190cm (L) x 5cm (H)
Queen: 60″ x 75″ x 2″/ 152cm (W) x 190cm (L) x 5cm (H)
King: 72″ (W) x 75″ (L) x 2″ (H)/ 183cm (W) x 190cm (L) x 5cm (H)
Super King: 79″ (W) x 79″ (L) x 2″ (H)/ 200cm (W) x 200cm (L) x 5cm (H)