(Bed Set) King Koil Couture Elite PI06101-04
Pima Cotton Jacquard 1200TC
Exquisite soft , Finest Long-staple cotton
This Contemporary coupled with Nature bedding set is crafted with premium Pima Cotton with a luxurious jacquard finish. Inspired by the Botanical featuring the Nature Fern leaves patterns in gentle soft- hued which fit seamlessly into the modern home.
Out of stock

Free delivery
For purchases above S$100. Get them in 3-5 business days (for in-stock bedding and linen)

Call-back service
Our advisors are ready to answer any questions you might have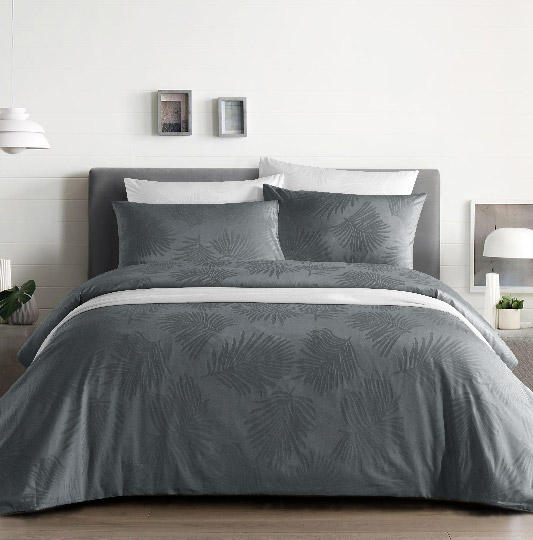 KING KOIL COLOUR PALETTE
Our luxurious solid Colour Palette collection of bed linens are made from high quality 1000 thread count cotton sateen for a smooth matte finish and opulent handle. Cotton sateen is celebrated for its superior strength, durability and exquisite comfort. Wonderfully versatile and appealingly simple and available in a variety of colours, you're sure to find one to complement your bedroom's interior scheme.
King Koil Colour Palette Collection is an eco-friendly and natural product. The cotton yarns are breathable – ensuring that you stay cool throughout the night. The bed linens are weaved with the finest long staple cotton yarns, to give it a softer and silkier feel. The sateen weaving gives ensure that the bed linens are durable.
King Koil Colour Palette Bed Set
"Super Single: 1 Duvet Cover (54″"x84″") + 1 Fitted Sheet (42″"x78″"+15″") + 1 Pillow Sham (20″"x30″"+2″") + 1 Pillow Case (20″"x30″") + 1 Bolster Case (15″"x42″")
Queen: 1 Duvet Cover (84″"x84″") + 1 Fitted Sheet (60″"x75″"+17″") + 2 Pillow Shams (20″"x30″"+2″") + 2 Pillow Cases (20″"x30″") + 1 Bolster Case (15″"x42″")
King: 1 Duvet Cover (96″"x84″") + 1 Fitted Sheet (72″"x78″"+17″") + 2 Pillow Shams (20″"x30″"+2″") + 2 Pillow Cases (20″"x30″") + 1 Bolster Case (15″"x42″")
S/King: 1 Duvet Cover (102″"x90″") + 1 Fitted Sheet (79″"x79″"+17″") + 2 Pillow Shams (20″"x30″"+2″") + 2 Pillow Cases (20″"x30″") + 1 Bolster Case (15″"x42″")"
Washing Instructions:
Gentle machine wash in warm water
Recommended to wash in laundry bag and separately from other textiles
Tumble dry on low heat
Do not bleach
Dry cleaning not recommended
Ironing on medium heat